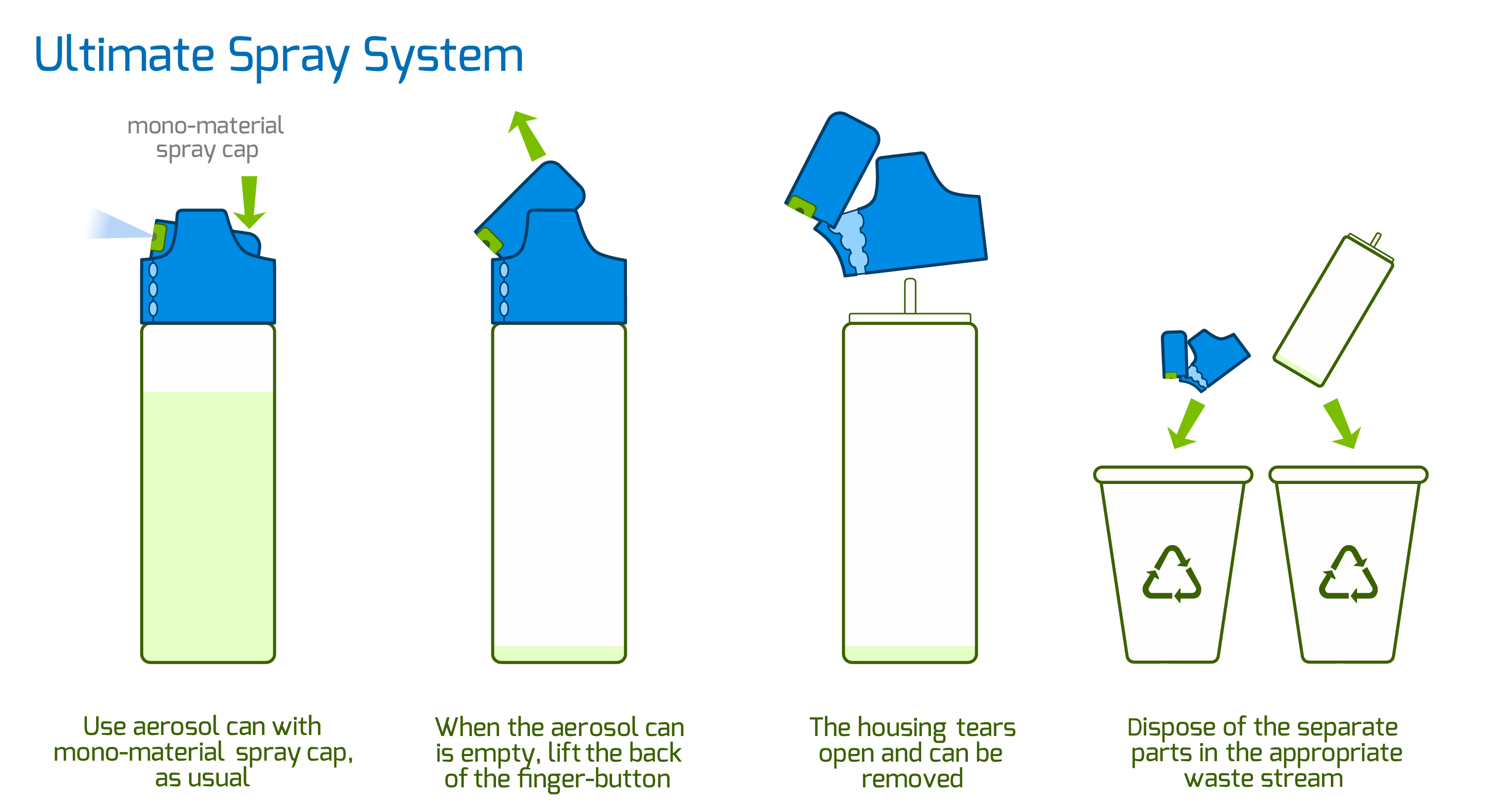 Next-generation Aerosol Cap with Ultimate Spray System
Most sustainable solution on the market today - fully recyclable
Mono-material solution: aerosol spray cap and insert made of PP or recycled PP/PCR
Spray cap can be separated from aerosol container before disposal
Highly versatile, excellent spray performance
Focusing on sustainability as well as functionality, Weener Plastics (WP) has developed a revolutionary spray system for aerosol spray caps with an insert: the Ultimate Spray System (USS). This patented two-piece product technology - the most sustainable option on the market today – offers the performance of familiar, proven conventional spray caps. This excellent performance and sustainability are the result of the material used for the insert as well as the smart design of the spray cap.
Mono-material: PP insert
To achieve refined spray patterns for specific application requirements, aerosols often use a spray cap with an insert. Traditionally, inserts are made of polymethyl methacrylate (POM), which cannot be recycled and disrupts waste streams. To solve this, WP has developed the unique USS with a polypropylene (PP) insert: a true mono-material product. The PP spray cap, including the PP insert, can be recycled 100% in standard waste streams. To increase circularity further, the spray cap is also available in recycled PP (rPP/PCR).
Smart design: removable spray cap
The USS offers a second novel feature: the spray cap can be easily and conveniently removed from the aerosol container before disposal. Thanks to an intuitive functionality, the finger-button can be lifted at which point the housing of the spray cap is torn open and can be removed. The separate spray cap and aerosol container can then be disposed of in the appropriate waste stream, ensuring effective recycling.
The USS is not only truly sustainable, but also highly functional. Extensive tests with a wide range of formulations show an excellent spray performance. Depending on the application, customers can choose the required spray characteristics - for example different orifices and spray patterns. Several global and local brands have shown serious interest in adopting USS for their personal care and home care products.
The system also offers great design freedom for the spray caps. As a result, a vast number of different designs and customization are feasible to boost brand recognition or distinguish from the competition. The insert and housing can both be given different colors. The caps fit standard aluminum and tinplate aerosol containers and can be processed on standard filling lines.
This new development is part of WP's circular economy program. Innovative technologies, low-carbon materials and smart product designs are key drivers to improve circularity and lower the footprint of our products. Thanks to this successful approach, we are enabling customers and consumers to contribute to a more sustainable future.
22 Jun 2022