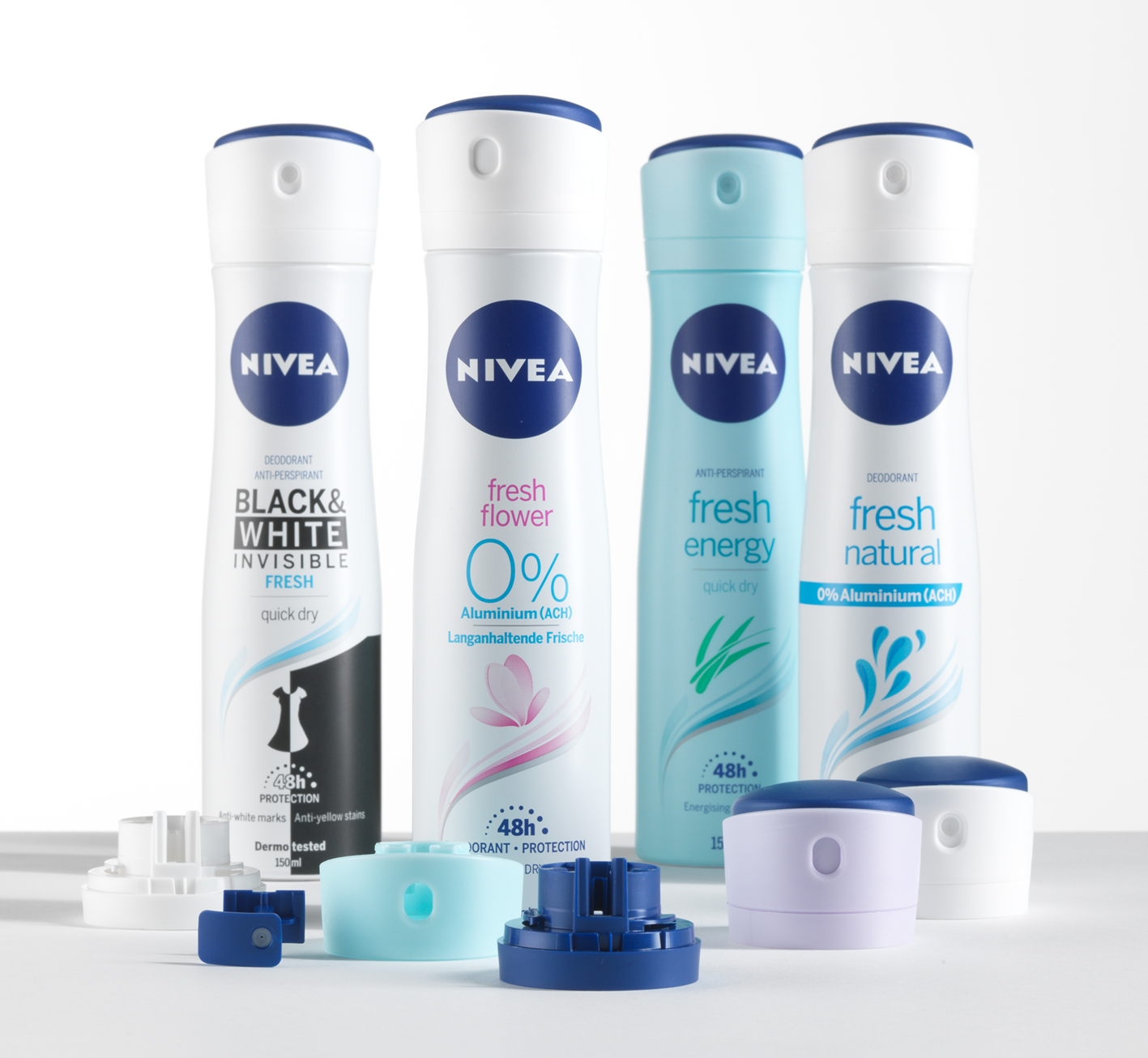 For many years, NIVEA has been Beiersdorf's loved and always reliable global skin care brand. Of course, they took great care in selecting a packaging supplier for their new female deodorant and antiperspirant range. Weener Plastics (WP) was chosen to design, develop and manufacture the new twist-lock spray cap, including development and manufacturing of the tooling.
In the body care range, NIVEA deodorants are true classics. They are designed to meet different consumer needs, always providing superior protection. For effective application of the deodorant and anti-perspirant formulations, WP developed an elegant 5-piece spray cap.
The high-end polypropylene cap offers an ultra-fine spray pattern. The ergonomical design allows convenient left- and right-handed activation of the button. The finger grips on the sides allow for easy opening and locking by twisting. This twist-lock function ensures firm closure in the locked position, safe for storage and on-the-go.
WP was also responsible for tooling and engineering. Advanced mould sets and newly developed innovative assembly technology enhance high-speed manufacturing with vision control and 100% flow check. Furthermore, product and stock handling are fully automated.
The NIVEA deodorants and anti-perspirants are packaged in appealingly-shaped aerosol cans, each with different protective formulas and actives for a long-lasting feeling of freshness. They all have the new spray cap with the NIVEA-blue button enhancing the brand identity. The deo spray range is currently being introduced in Europe and will be rolled out in Asia and possibly other continents in the future.
-------------------------------------------------------------------------------------------------------------

Por muchos años, Nivea ha sido la marca global de cuidado de la piel amada y siempre confiable de Beiersdorf. Ellos, por supuesto, tuvieron mucho cuidado al seleccionar un proveedor de envases para su nueva gama femenina de desodorante y antitranspirante. Weener Plastics (WP) fue elegida para diseñar, desarrollar y fabricar la nueva tapa de aerosol con cierre por torsión, que incluye el desarrollo y la fabricación de la herramienta.
En el rango de cuidado corporal, los desodorantes Nivea son verdaderos clásicos. Están diseñados para satisfacer las diferentes necesidades del consumidor, proporcionando siempre una protección superior. Para la aplicación efectiva de las formulaciones desodorante y antitranspirante, WP desarrolló una elegante tapa de aerosol de 5 piezas.
La tapa de polipropileno de alta gama ofrece un patrón de pulverización ultrafino. El diseño ergonómico permite una cómoda activación del botón con la mano izquierda y derecha. El agarre de los dedos en los lados permite una fácil apertura y bloqueo mediante torsión. Esta función de bloqueo de giro garantiza un cierre firme en la posición bloqueada, segura para el almacenamiento y sobre la marcha.
WP también fue responsable de las herramientas y la ingeniería. Los sets de moldes avanzados y la innovadora tecnología de ensamblaje recientemente desarrollada mejoran la fabricación a alta velocidad con control visual y control de flujo al 100%. Además, el manejo del producto y del stock está completamente automatizado.
Los desodorantes y antitranspirantes Nivea están envasados en latas de aerosol de atractivo diseño, cada uno con diferentes fórmulas de protección y activados para una sensación de frescura duradera. Todos ellos tienen la nueva tapa de aerosol con el botón azul Nivea, mejorando la identidad de la marca. La gama de spray deo se está introduciendo actualmente en Europa y se lanzará en Asia y posiblemente en otros continentes en el futuro.
04 Jun 2018